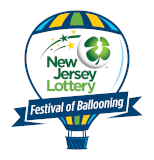 Countdown to Festival Fun

Countdown over!
Until the 2020
Quick Chek New Jersey
Festival of Ballooning!
Marquee Partners/Touring Exhibits
Interested in becoming a Marquee Partner in 2021?
Do you represent a home and garden product or service provider, destination agency or entertainment venue?
If you have a direct to customer business looking to generate brand awareness, sales and leads in the Tri-State area (NY, NJ, PA),
the New Jersey Lottery Fesival of Ballooning can provide you with exposure to over 165,000 patrons throughout the weekend.
For more information on becoming a Marquee Partner of the 2021 New Jersey Lottery Festival of Ballooning, contact
Below is a list of our 2020 Marquee Partners
Here's What Our Festival Attendees Have To Say About Us: