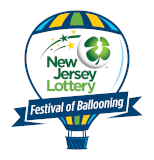 Countdown to Festival Fun

Until the 2020
Quick Chek New Jersey
Festival of Ballooning!
READINGTON

, NJ

--- Balloons, tunes and booms. Oohs, aahs and riffs.

"We're more than just hot air," said Howard Freeman, executive producer of the Quick Chek New Jersey Festival of Ballooning in association with PNC Bank, which will be celebrating its 25th Silver Anniversary July 27-28-29, 2007 at Solberg Airport in Readington, NJ. "We're proud once again to offer morning-through-night family entertainment. With up to 125 sport and special shaped balloons, our biggest concert lineup ever, and many new special attractions, this is going to be our best Festival ever."

The balloon festival started when a group of local enthusiasts brought a dozen balloons to the Union 76 Truck Stop in western New Jersey 25 years ago. Today, the Quick Chek New Jersey Festival of Ballooning in association with PNC Bank is the largest summertime hot air balloon and music festival in North America, attracting upwards of 175,000 people and worldwide media coverage over the three-day weekend.

"We are proud to be part of the Festival's Silver Anniversary celebration," said Dean Durling, Chief Executive Officer of Whitehouse Station-based Quick Chek, which is celebrating its 40th anniversary in 2007. "We've both grown together. The Festival is the premier family entertainment event in the Northeast and we now have more than 100 locations throughout the state of New Jersey." This year also marks Quick Chek's 15th year as the Festival's title sponsor, the seventh-longest running title sponsorship of a major event in the country.

The three-day, jam-packed Festival features the Bridgewater Marriott Fireworks Extravaganza, the New Jersey Office of Travel & Tourism Balloong Glow, live musical performances, children's interactive exhibits and amusement rides, hundreds of arts and crafts booths and food vendors, and five scheduled mass hot air balloon ascensions with up to 125 balloons floating in the sky over the scenic Hunterdon County countryside.

Mass hot air balloon ascensions are scheduled for Friday, July 27 at 6:30 p.m.; Saturday, July 28 at 6:30 a.m. and 6:30 p.m.; and Sunday, July 29 at 6:30 a.m. and 6:30 p.m., wind and weather permitting.

The year's lineup of special-shaped balloons are scheduled to include the 135-foot-tall Quick Chek Eagle; the PNC Bank American Flag, the largest free-flying American flag in the world; the 110-foot-tall lover bees, Lilly and Joey, which hold hands and kiss in mid-flight; Beagle Maximus, the world's largest dog; the return of a new and improved Mr. Peanut, now 138-feet tall and making his U.S. debut; and a pink, 16-story high Energizer Bunny that's taller than the Statue of Liberty.

And what would an anniversary be without a cake! North Brunswick's Keith Sproul will make the celebration a special one with a cake-shaped balloon that's 80-feet-tall, 71-feet in diameter, weighs 807 pounds with 12-foot-high candles and 5-foot-high flames!

Hot air balloon rides ($185 per person in the morning, $195 per person evening, plus tax) and tethered balloon rides ($15 per person) are available to the public. Reservations are suggested (1-800-HOT-AIR-9 or

www

.

balloonfestival

.

com

) as rides sell out fast.

The balloons aren't the only high-flying objects that will be up in the sky: new for this year is an attraction you can't miss – literally – The Galaxy of Thrills, the highest aerial act in the world! Galaxy Girl™ (Tina Winn), husband John and daughter Ashley dazzle festival-goers with their death-defying aerial thrill shows, performing daring acts of precision and skill high above the crowd. 12 stories high! The Galaxy of Thrills features the Cyber Cycle™ motorcycle show, the 127-foot-high pole with its trapeze and aerial space platform featuring Galaxy Girl™, and Miss Ashley's Hula Hoop Madness Show.

"We've found that the average family stay is 7½ hours so we do our best to make sure there's something for everyone," said Freeman. "Our Festival is like a state fair with balloons."

Children are invited to get in on the action by joining The Quick Chek New Jersey Festival of Ballooning's Kid's Club presented by Entenmann's, which allows kids to get up-close-and-personal with up to 125 hot air balloons! Each member of the Kid's Club will receive one (1) good-any-day children's general admission ticket to the Festival; an exclusive Kid's Club T-shirt; the opportunity to attend a hot air balloon tutorial with an official pilot; an invitation onto the launch field (when accompanied by one adult guest) during a balloon ascension; and a "Taste of Quick Chek" festival goody-bag. In addition, five (5) lucky Kid's Club members will be chosen to be honorary Launch Directors (one per ascension) where they will be invited to the pre-launch pilot briefing and will give the official launch directions to the pilots prior to lift-off! This unforgettable experience is available for just $15.00 (www.balloonfestival.com).

While the balloons provide the "oohs and aahs", the riffs and tunes have become a Festival tradition with this year's concert lineup the largest in Festival history.

Chuck Negron, former lead singer of Three Dog Night ("One", "Joy to the World", "Easy to Be Hard", "Mama Not Me Not to Come"), takes the Bud Light Main Stage on Friday night, July 27. During their peak in the 1970s, no group had more Top 10 hits, moved more records, or sold more concert tickets; all told the group has sold 90 million records to date.

North Jersey teen sensations The Jonas Brothers, a pop-rock trio of heartthrobs from Wyckoff, NJ, are sure to create a stir when they perform Saturday afternoon, July 28, and then greet fans following their live concert. The Festival's first-ever major kids headliner, brothers Kevin, Joseph and Nicholas have a huge fan base following last year's smash debut CD "It's About Time", appearances on MTV's TRL, and Radio Disney hits "Mandy" and "Year 3000".

Princeton-based Blues Traveler returns home to Central Jersey on Saturday night, July 28, in conjunction with the New Jersey Office of Travel & Tourism Balloon Glow. The jam band (Grammy winning "Run-Around", "Hook") has amassed a passionate following with its explosive live performances and epic sets.

PNC

Bank presents Creedence Clearwater Revisited on Sunday afternoon, July 29 to close out the concert series. The Rock-and-Roll Hall of Fame rhythm section from the legendary group Creedence Clearwater Revival, Stu Cook and Doug "Cosmo" Clifford, launched the Creedence Clearwater Revisited project for fans looking to enjoy their hits of the '60's generation: "Proud Mary"; "Bad Moon Rising"; "Travelin' Band"; "Looking Out My Back Door"; "Who'll Stop the Rain"; "Down on the Corner"; "Green River".

Food has also become a key ingredient to the Festival's success. Dellano's of Long Valley, NJ, is the new food vendor and will be offering a taste of true Jersey treats such as hot and sweet sausage and peppers, mouth-watering burgers, hot dogs, cheese steaks, calzones, zeppoles, lemonade and Italian ices. Signature dishes include deep fried Oreos™ and the Hot Air Balloon Funnel Cake, a light and tasty funnel cake shaped like a hot air balloon, deep-fried to a golden brown and topped with strawberry, chocolate or blueberry sauces.

And there's the 3rd annual Quick Chek Original Toasted Italian Sub-Eating Contest Championship, where "Gentleman Joe" Menchetti set a world record last year by downing 6¾ fully-loaded subs in 10 minutes.

The 25th annual Quick Chek New Jersey Festival of Ballooning is held at Solberg Airport in Readington, conveniently located near Interstates 287 and 78 and Routes 22, 202 and 206, just 50 miles from New York City and 60 miles from Philadelphia. Parking is available on-site or festival-goers can park at nearby Raritan Valley Community College and take the New Jersey Skylands Insurance Free Express Shuttle Bus.

Festival hours are Friday, July 27, from 1:00 p.m. to 10:00 p.m.; Saturday, July 28, from 6:00 a.m. to 10:00 p.m.; and Sunday, July 29 from 6:00 a.m. to 8:00 p.m.

Tickets can be purchased in advance for $17 for adults and $7 for children ages 4-12, at all Quick Chek stores in New Jersey beginning June 1. Children age 3 and under are admitted free. Tickets at the gate will be $25 for adults and $10 for children ages 4-12. Advance tickets can be also be purchased by calling 1-800-HOT-AIR-9 (1-800-468-2479) or online at

www

.

balloonfestival

.

com

.

|

Back to index...