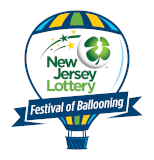 Countdown to Festival Fun

Until the 2020
Quick Chek New Jersey
Festival of Ballooning!
March 9, 2020

STYX TO HEADLINE NEW JERSEY LOTTERY FESTIVAL OF BALLOONING

ATTENDEES INVITED TO BOTH FLY AND SAIL AWAY

READINGTON, NJ --- Attendees at this summer's New Jersey Lottery Festival of Ballooning in Association with PNC Bank will have the opportunity to both fly and sail away.

The largest summertime hot air balloon and music festival in North America has announced that multi-mega-million selling rock band Styx will perform in the Festival's highly popular live concert series on Sunday, July 26 at 3:00 p.m. at Solberg Airport in Readington, NJ.

Tickets go on sale Thursday, March 12 at 10:00 a.m. at www.balloonfestival.com.

Styx is best known for their numerous classic hit songs including "Come Sail Away," "Renegade," and "Too Much Time on My Hands." They were the first group to have four triple-platinum-selling albums in a row.

The band established itself with a progressive rock sound in the 1970s and began to incorporate pop rock and soft rock in the 1980s, and now draws from over four decades of barn-burning chart hits, joyous sing-alongs and hard-driving deep cuts.

Styx is currently comprised of James "JY" Young, Tommy Shaw, Chuck Panozzo, Todd Sucherman, Lawrence Gowan and Ricky Phillips.

"We're proud to announce Styx as our first major concert headliner as we launch a new chapter in festival history," said Festival Executive Producer Howard Freeman in noting that this is the first year of its new title sponsorship with the New Jersey Lottery.

"Our concerts are almost as popular as the balloons; it's always one of the first questions we receive, 'Who is playing this year?' We're thrilled to have this classic American rock band headline our Sunday concert."

The 38th annual New Jersey Lottery Festival of Ballooning in Association with PNC Bank features twice-a-day mass ascensions of up to 100 sport and special shaped hot air balloons, live concerts, fireworks, a nighttime hot air balloon glow, family entertainment and experiential attractions, children's amusement rides and hundreds of vendors. The Festival has been named the premier family entertainment attraction in New Jersey by the USA TODAY NETWORK; the top festival in the state and one of the Top 50 festivals in America by MSN Lifestyle; and was named the No. 1 Thing to Do in the state by New Jersey Monthly magazine.

This year's Festival takes flight July 24-25-26, 2020.

For additional information or to purchase tickets, visit www.balloonfestival.com.

###

MEDIA CONTACT:

Russ Mensch

Mensch & Company, Inc.

Public Relations & Event Marketing

phone: 201-797-2448

email: [email protected]

|

Back to index...