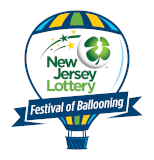 Countdown to Festival Fun

Until the 2020
Quick Chek New Jersey
Festival of Ballooning!
You name it, we pretty much have it. We've worked hard over the years to provide morning-through-night entertainment that appeals to the entire family. And we must be succeeding as we've found that the average family stay at the Festival is 7½ hours!

So we're working hard to put together 3 jam-packed days --- and nights --- from early morning balloon ascensions to the Bridgewater Marriott Fireworks extravaganza on Friday night and the New Jersey Office of Travel & Tourism Balloon Glow on Saturday night in conjunction with Saturday night's Blues Traveler concert on the Bud Light Main Stage.

In between, we hope you visit with our arts & crafts vendors, enjoy product samples from our many wonderful sponsors, dine with our new food vendor throughout the day, experience all of the hands-on interactive displays, take the kids on the amusement rides, see the Purina Incredible Dog Team in action, visit the Quick Chek Entertainment Tent, the Family Fun Pavilion, and the Cheez-It Stix PlayZone, just to name a few of our highlights.

New for this year is an attraction you can't miss – literally – as we bring you The Galaxy of Thrills, the highest aerial act in the world! Galaxy Girl™ (Tina Winn), husband John and daughter Ashley dazzle festival-goers with their death-defying aerial thrill shows, performing daring acts of precision and skill high above the crowd. 12 stories high! The Galaxy of Thrills features the Cyber Cycle™ motorcycle show, the 127-foot-high pole with its trapeze and aerial space platform featuring Galaxy Girl™, and Miss Ashley's Hula Hoop Madness Show.

And children are invited to get in on the action by joining The Quick Chek New Jersey Festival of Ballooning's Kid's Club presented by Entenmann's, which allows kids to get up-close-and-personal with up to 125 hot air balloons and the Entenmann's Little Bites Dog mascot! Each member of the Kid's Club will receive:

One (1) good-any-day children's general admission ticket to the Festival

An exclusive Kid's Club T-shirt

The opportunity to attend a hot air balloon tutorial with an official pilot

An official Kid's Club membership certificate signed by the Balloonmeister

An invitation onto the launch field (when accompanied by one adult guest) during a balloon ascension

A "Taste of Quick Chek" festival goody-bag

In addition, five (5) lucky Kid's Club members will be chosen to be honorary Launch Directors (one per ascension) where they will be invited to the pre-launch pilot briefing and will give the official launch directions to the pilots prior to lift-off!

This unforgettable experience is available for just $15.00! Hurry and join today! (click here)

|

Back to index...