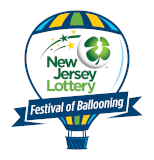 Countdown to Festival Fun

Until the 2020
Quick Chek New Jersey
Festival of Ballooning!
READINGTON, NJ --- Andy Grammer is all about inspiring and empowering the world by communicating his truths through music.

The first male pop star in a decade since John Mayer to reach the Top 10 in Adult Pop Radio on his first two singles, Grammer ("Honey, I'm Good," "Smoke Clears") has taken the music world by storm with a succession of anthemic hits, six of which are certified gold or better.

Presented by PNC Bank in association with Magic 98.3 FM, the multi-platinum selling pop star will open the QuickChek New Jersey Festival of Ballooning's headlining live concert series on the Progressive Insurance Main Stage at Solberg Airport in Readington, NJ on Friday night, July 27, 2018.

The 36th annual QuickChek New Jersey Festival of Ballooning in Association with PNC Bank is the largest summertime hot air balloon and music festival in North America and has been named the premiere family entertainment attraction in New Jersey by Gannett and the USA Today Network.

It will be a homecoming of sorts for the pop star who grew up in the metropolitan area and graduated from Monroe-Woodbury High School in Central Valley, NY, about one hour north of Readington. His father is Red Grammer, an East Orange native and Grammy-nominated children's recording artist.

Grammer's debut album featured the platinum singles "Keep Your Head Up" and "Fine By Me." His second album, Magazine or Novels, featured the triple platinum infectious smash hit "Honey, I'm Good," which was one of the best-selling songs of 2015, reaching No. 9 on the Billboard Hot 100, and the certified gold anthem "Good To Be Alive (Hallelujah)."

"As someone who likes to write happy, positive songs, I know they can come across too sweet," said Grammer. "It's way easier to write sad songs – you play minor chords and instantly it's cooler. It takes a lot of effort to make something happy not sound cheesy, but I feel like that's my life's work. And right now, in the world, we need love in all forms."

That spirit can certainly be felt in Grammer's "Give Love," featuring LunchMoney Lewis, from his recently released third album, The Good Parts. "Give Love" follows the success of his platinum hit "Fresh Eyes," which has racked up over 300 million total streams and became his sixth single certified gold or better. "Smoke Clears" is his latest new hit single.

"We're thrilled to have Andy Grammer, one of pop's biggest stars, open our headlining concert series," said Festival Executive Producer Howard Freeman. "He is the type of contemporary artist who reflects how our concerts continue to grow. We work very hard to present an array of musically diverse artists year after year. Our attendees cover a very wide age range with different tastes and we're proud we can continue to produce talent that they'll enjoy."

A must on everyone's summer calendar, the three-day Festival features the awe-inspiring spectacle of 100 sport and special shaped hot air balloons from around the world taking to the skies twice each day in mass ascensions over the scenic Hunterdon County countryside; a live concert series featuring the biggest names in music; a fireworks display; a nighttime hot air balloon glow; children's amusement rides and entertainment; the Running with the Balloons 5K; exciting interactive exhibits and hundreds of crafters and food vendors.

Grammer is the first of the Festival's prime-time headliners to be announced for this year's upcoming concert series. The Festival's first mass inflation and ascension of 100 hot air balloons is scheduled for Friday night, July 27 at 6:30 p.m., followed by Grammer's concert at 8:00 p.m. and a fireworks extravaganza at 9:30 p.m.

Tickets, which include Blue Sky Club VIP packages go on sale Thursday, March 1 at 10:00 a.m. at www.balloonfestival.com.

###

MEDIA CONTACT:

Russ Mensch

Mensch & Company, Inc.

Public Relations & Event Marketing

phone: 201-797-2448

|

Back to index...