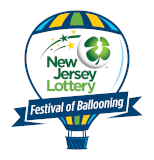 Countdown to Festival Fun

Until the 2020
Quick Chek New Jersey
Festival of Ballooning!
SPECIAL SHAPED HOT AIR BALLOON IS 5 STORIES TALL!

Created following 9/11, Balloon Launches the Nation's Independence Day Celebrations

HOBOKEN, NJ --- The PNC American Flag balloon, the world's largest free-flying American flag, was inflated on Friday, July 3 to launch the nation's Independence Day celebrations and prepare for its upcoming flights at the 33rd annual QuickChek New Jersey Festival of Ballooning in Association with PNC Bank, July 24-25-26, in Readington, NJ.

The 53-foot-tall, 78-foot-wide red, white and blue special shaped balloon was conceived and built following the attacks of September 11 by pilot Barry DiLibero who lives in Modena, PA, the geographical center from where the attacks took place on New York, Washington DC and Shanksville, PA.

Festival Executive Producer Howard Freeman and PNC brought the balloon to the Festival in 2002, where it immediately became a crowd favorite. It has flown at the Festival every year since.

The raising of the PNC American Flag balloon has become a tradition in the New York area as the Festival honors America on either Flag Day in June or for the Fourth of July holiday.

This year's event at Stevens Institute of Technology in Hoboken was once again a huge media draw, televised live on the PIX11 Morning News and CBS2 This Morning. Additional media outlets included Telemundo, Verizon Fios1 News, The Record, The Star-Ledger and NJ.com.

The PNC American Flag balloon is 53 feet tall, 78 feet wide, 29 feet deep, and weighs 530 pounds. It can hold 700,000 3-foot-by5-foot American flags and requires 30 million BTUs of propane to be fully inflated.

It is one of 100 sport and special shaped balloons that will fly at this year's Festival, the largest summertime hot air balloon and music festival in North America.

###


MEDIA CONTACT:
Russ Mensch
Mensch & Company, Inc.
Public Relations & Event Marketing
phone: 201-788-2591
email: [email protected]


|

Back to index...