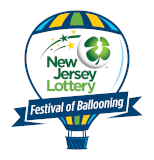 Countdown to Festival Fun

Until the 2020
Quick Chek New Jersey
Festival of Ballooning!
READINGTON, NJ --- She helped turn the rock world upside down and now Joan Jett will be taking it to new heights as she becomes the first female to headline the 32nd annual QuickChek New Jersey Festival of Ballooning on July 27.

The New Jersey Lottery presents Joan Jett & the Blackhearts in association with NJ101.5 on Sunday, July 27 at 3:00 p.m. Reserved concert seats go on sale Friday, April 25 at 10:00 a.m. Lawn seating, which includes general admission into the Festival, are on sale now at www.balloonfestival.com.

As the leader of the hard-rocking Blackhearts, Joan Jett has had eight platinum and gold albums and nine Top 40 singles, including the classics "Bad Reputation," "I Love Rock 'N' Roll," "I Hate Myself for Loving You," and "Crimson and Clover."

Jett's music has become a permanent force in mainstream culture. A version of "I Hate Myself for Loving You" has been the theme for NBC's Sunday Night Football telecasts, performed this past season by Carrie Underwood ("Waiting All Day for Sunday Night"). Her music is heard in countless films and TV shows including Easy A, Kick Ass, The Runaways, Shrek, Baby Mama and many more.

Since co-founding the Runaways, the pioneering all-girl punk quartet, at age 15, Jett's determination and drive have kept her in the public eye. She was able to see her story told in The Runaways, the film based on Cherie Currie's book Neon Angel, starring Kristen Stewart as Jett and fellow A-lister Dakota Fanning as Currie. Jett served as an executive producer.

A sports fan, Jett's "Bad Reputation" was used by UFC's women's bantamweight champion Ronda Rousey as her walkout song at the pay-per-view event UFC 157. Her cover of "Love is All Around" from The Mary Tyler Moore Show was used to promote the NCAA's Women's Final Four basketball tournament. She has also supplied theme songs for the ESPN X-Games premiere and has performed the national anthem at numerous sporting events.

An originator, an innovator and a visionary, Jett sits at the head of her own independent label, Blackheart Records. She has acted in movies and in television, including 1987's Light of Day, and in a Tony-nominated musical, The Rocky Horror Picture Show.

Jett has spent her lifetime breaking barriers and challenging expectations – she is both a spokesperson for PETA and a devoted supporter of the U.S. Military. She's fought hard for all of her historic accomplishments yet remains humble and appreciative.

"I've had a blessed career," said Jett. "I consider myself lucky to have been able to do things my own way."

"We're thrilled to have the dynamic Joan Jett as our first female headliner," said Festival Executive Producer Howard Freeman. "Her music connects with our attendees, from the parents who grew up listening to her in the late '70s to their children who enjoy her music today across so many platforms."

The QuickChek New Jersey Festival of Ballooning in association with PNC Bank is the largest summertime hot air balloon and music festival in North America. The three-day Festival, July 25-26-27, 2014 at Solberg Airport in Readington, NJ, features twice a day mass ascensions of more than 100 balloons from around the world and a hugely popular concert series.

The announced concert lineup to date features America on Friday, July 25; 3 Doors Down on Saturday, July 26; and Joan Jett & the Blackhearts on Sunday, July 27.

|

Back to index...