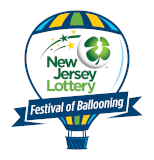 Countdown to Festival Fun

Until the 2020
Quick Chek New Jersey
Festival of Ballooning!
For Immediate Release

CAN'T RUN WITH BULLS? RUN WITH THE BALLOONS!

READINGTON, NJ --- If you can't make it to Pamplona, Spain to run with the bulls this week, consider "Running with the Balloons."

The 3rd annual Trinitas Regional Medical Center "Running with the Balloons" 5K Race and Family Fun Run presented by Gatorade G Series at the Quick Chek New Jersey Festival of Ballooning on July 29 offers a setting like no other: hitting the ground running through the largest summertime hot air balloon and music festival in North America while 100 hot air balloons are in the skies above you.

"As far as we know, no one's ever been gored by a hot air balloon," quipped Festival Executive Producer Howard Freeman, who last year fired human cannonball Jennifer Smith out of her 27-foot-long cannon as the starting gun.

James Leckie of Whitehouse Station, NJ won the inaugural "Running with the Balloons" in 2010 with Tara Zimliki of Branchburg the top female finisher. Taylor Trumbetti of Montvale, NJ won last year's race with 16 year old Andrea Ostenso of Lady Smith, Wisconsin winning the women's division.

The Festival's newly designed course will integrate the roads surrounding the Festival grounds at Solberg Airport in Readington, NJ. As a result, the "Running with the Balloons" is now a USATF-NJ sanctioned Grand Prix event worth 500 points. The fast, flat, low-impact course promises very fast times for all runners.

Runners will start and finish right in the heart of the Festival and be cheered on by thousands of attendees on Sunday morning, July 29.

The top male finisher and the top female finisher will each win a free ride in a hot air balloon. The top 3 overall male and female finishers will receive non-cash prizes, with medals presented to the top 3 finishers in the following age groups: 14 and under, 15-19, 20-24, 25-29, 30-34, 35-39, 40-44, 45-49, 50-54, 55-59, 60-64, 65-69, and over 70.

All 5K and Family Fun Run entries include a full-day pass to the Festival, which includes Festival admission, lawn seating for Sunday afternoon's teen sensations concert by R5 featuring Ross Lynch from Disney Channel's Austin & Ally and lawn seating to the Sunday afternoon headlining concert by rock and reality TV star Bret Michaels presented by PNC, and access to both the morning and evening scheduled hot air balloon mass ascensions.

Registration is open online at www.balloonfestival.com/entertainment/5k. Advanced registration for the 5K is $40 ($50 at the gate) and $32 for adults for the Family Fun Run ($45 at the gate) and $22 for children ($30 at the gate). All runners receive a $2.00 discount off additional general admission tickets purchased online for families and friends.

In keeping with the Festival's belief in "doing well by doing good," a portion of the proceeds from the 5K and Fun Run will benefit the Center for Educational Advancement (CEA).

The 30th annual Quick Chek New Jersey Festival of Ballooning in Association with PNC Bank, July 27-28-29, is the largest summertime hot air balloon and music festival in North America with 165,000 people expected. The three day Festival features twice a day mass ascensions of more than 100 sport and special shaped hot air balloons from around the world, live concerts, and 39 hours of family entertainment and attractions.

###

MEDIA CONTACT:

Russ Mensch

Mensch & Company, Inc.

Public Relations & Event Marketing

phone: 201-797-2448

email: [email protected]

|

Back to index...