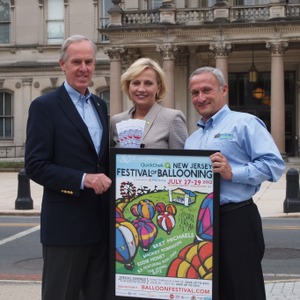 Quick Chek CEO Dean Durling (left) and Festival executive producer Howard Freeman (right) traveled to the State House in Trenton on Thursday, May 24 to present New Jersey Lt. Governor Kim Guadagno with a commemorative poster and the first tickets to this year's 30th annual Quick Chek New Jersey Festival of Ballooning in Association with PNC Bank. Tickets for the July 27-28-29 festival at Solberg Airport in Readington go on sale at all Quick Chek stores on Memorial Day, May 28.
The largest event in the state, the Festival has been named one of the Top 100 events in North America five times and the No. 1 Thing to Do in New Jersey in 2012 by New Jersey Monthly magazine.
Festival-goers can purchase advance tickets for just $17 at any Quick Chek before midnight June 29, a savings of 43 percent off the adult gate price of $30. Attendees who purchase two tickets in store by June 29 will receive a coupon book while supplies last with over $30 in savings on a variety of items such as Quick Chek's renowned fresh coffee, iced coffee, fountain drinks and sub sandwiches — a $90 value for just $34!
Tickets are also available online at www.balloonfestival.com.