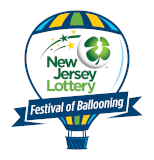 Countdown to Festival Fun

Until the 2020
Quick Chek New Jersey
Festival of Ballooning!
For Immediate Release

BALLOON FESTIVAL OFFERS 5K RACE, FUN RUN, YOGA, JAZZERCISE, ZUMBA

HEALTH & WELLNESS DAY LETS YOU WORKOUT WITH THE BALLOONS

READINGTON, NJ --- The 29th annual Quick Chek New Jersey Festival of Ballooning in Association with PNC is offering a full morning of healthy activities during its "Health & Wellness Day" on Sunday, July 31.

Named one of the Top 100 Events in North America for 2011, the three-day festival, July 29-30-31 at Solberg Airport in Readington in Hunterdon County, features twice daily mass ascensions of more than 100 hot air balloons from around the world, live concerts, and 39 hours of family entertainment.

"Health & Wellness Day" begins with a sunrise yoga at 6:30 a.m. and an early morning mass inflation and ascension of the balloons.

A Zumba and Jazzercise pre-race warm-up at 7:30 a.m. will help participants get ready for the 2nd annual Trinitas Regional Medical Center "Running with the Balloons" 5K Race and Family Fun Run at 8 a.m. This race offers a setting like no other: hitting the ground running following a mass ascension of more than 100 hot air balloons in the skies above you.

New this year is a redesigned single-loop, USATF certified course that integrates the entire festival grounds. The course runs parallel to the balloon launch field and then heads out to a flat, well manicured grass runway. The finish line will be at the center of the Festival on a paved runway in front of thousands of festival attendees. This will be a flat, fast course and features one of the fastest final 400 meters of any race.

It will also be the first race with a human cannonball as a starter's gun when Jennifer "The Cannon Lady" Smith is fired from her 27-foot cannon to start the race!

Adding to the excitement, the Red Bull Air Force will conduct high speed parachute and wing suit demonstrations at 6:30 a.m. before the mass balloon ascension and at again following the ascension and throughout the day.

A Jazzercise class is scheduled for 8:30 a.m. followed by the Family Fun Run at 9:00 a.m. and a Zumbathon presented by the Steeplechase Cancer Center at Somerset Medical Center.

All "Health & Wellness Day" events include general admission into the Festival, lawn seating for the Sunday afternoon concert by rock legend Meat Loaf at 4:00 p.m. presented by PNC and Sunday night's mass hot air balloon ascension at 6:30 p.m.

The top male finisher and the top female finisher will each win a free ride in a hot air balloon. The top 3 overall male and female finishers will receive non-cash prizes, with medals presented to the top 3 finishers in the following age groups: 14 and under, 15-19, 20-24, 25-29, 30-34, 35-39, 40-44, 45-49, 50-54, 55-59, 60-64, 65-69, and over 70.

In keeping with the Festival's belief in "doing well by doing good," a portion of the proceeds from the 5K and Fun Run will once again benefit the Center for Educational Advancement (CEA).

For race registration and additional information, please visit www.balloonfestival.com.

###

MEDIA CONTACT:

Russ Mensch

Mensch & Company, Inc.

Public Relations & Event Marketing

201-797-2448

|

Back to index...