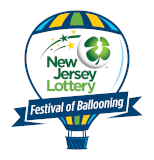 Countdown to Festival Fun

Until the 2020
Quick Chek New Jersey
Festival of Ballooning!
It's Flag Day and we're raised – OK, we're inflated -- the largest free-flying American Flag ever produced! The PNC American Flag balloon, the world's largest free-flying American flag (53 feet tall, 78 feet wide), was inflated on Tuesday, June 14, at Stevens Institute of Technology in Hoboken, NJ to honor America on June 14, Flag Day.

The special shaped balloon was flown in preparation for next month's 29th annual Quick Chek New Jersey Festival of Ballooning in Association with PNC, the largest summertime hot air balloon and music festival in North America. The flag balloon is one of 125 sport and special shaped balloons from around the world that will be at this year's festival, July 29-30-31, 2011 at Solberg Airport in Readington, NJ.

The Festival and PNC were featured throughout the morning as the PIX Morning Show broadcast live that morning. PIX's popular weathercaster Linda Church was on site for more than 3 hours as she showcased the Festival, the flag, and interviewed Festival executive producer Howard Freeman and balloon pilot Barry DiLibero.

|

Back to index...