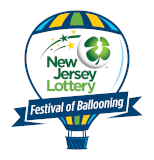 Countdown to Festival Fun

Until the 2020
Quick Chek New Jersey
Festival of Ballooning!


Mountainside, NJ fourth grader William Tracy is the Grand Prize winner of the 8th annual PNC American Patriot Essay Contest, a statewide competition in which school children wrote about "What the American Flag Means to Me." The contest was held as part of PNC's community outreach efforts through its association with the Quick Chek New Jersey Festival of Ballooning. Among his prizes was a tethered hot air balloon ride on Monday, June 13 at Deerfield School. William also received VIP tickets and will take a hot air balloon ride at next month's 29th annual Quick Chek New Jersey Festival of Ballooning in Readington, NJ July 29-30-31, 2011, the largest summertime hot air balloon and music festival in North America.

Second place was awarded to Alfredo Figueroa, a fourth grade student from A.C. Redshaw School in New Brunswick, who will receive general admission tickets to the Festival plus Festival merchandise. Jason Zhang, an eighth grade student from Thomas Grover School in Princeton, was awarded third place and will receive tickets to the Festival.

|

Back to index...