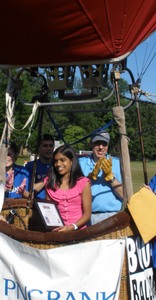 Somerset, NJ sixth grader Priti Kantesaria is the Grand Prize winner of the 7th annual PNC American Patriot Essay Contest, a statewide competition in which school children wrote about "What the American Flag Means to Me." The contest was held as part of PNC's community outreach efforts through its association with the Quick Chek New Jersey Festival of Ballooning. Among her prizes was a tethered hot air balloon ride on Tuesday, June 8 at Sampson G. Smith Elementary School. Priti also received VIP tickets and will take a hot air balloon ride at next month's 28th annual Quick Chek New Jersey Festival of Ballooning in Readingotn, NJ July 23-24-25, 2010
For Immediate Release


GIANT HOT AIR BALLOON VISITS SOMERSET, NJ ELEMENTARY SCHOOL TO HONOR STUDENT ESSAY CONTEST WINNER

6th Grader's Essay Best in State, She Gets to go Up, Up, and Away


SOMERSET, NJ --- Priti Kantesaria, a sixth grade student from Sampson G. Smith Upper Elementary School in Somerset, NJ has been selected as the Grand Prize winner of the 7th annual "PNC American Patriot Essay Contest." A 75-foot-tall hot-air balloon visited the school Tuesday, June 8, 2010 where executives from PNC and the Quick Chek New Jersey Festival of Ballooning presented her with the award, which included a brief tethered ride in the balloon in front of 600 of her schoolmates.
Kantesaria also received four Blue Sky Club VIP admission tickets and will take a ride in a hot air balloon during the 28th annual Festival at Solberg Airport in Readington, NJ July 23-24-25, 2010.
The Festival also provided complimentary tickets to her teacher, Patricia Frances; her principal, Eileen Brett; and all 26 of her immediate classmates.
Howard Freeman, Executive Producer of the Festival, provided students with a lesson on the science of hot air ballooning Tuesday morning.
As part of the community outreach efforts through its association with the Quick Chek New Jersey Festival of Ballooning, the largest summertime hot air balloon and music festival in North America, PNC asked New Jersey students in grades 2-12 to submit an essay on "What the American Flag Means to Me." The winners were chosen by a panel of judges comprised on PNC and Balloon Festival staff.
"If you want your heart warmed and your pride in USA lifted up, all you need to do is read the essays that were submitted this year ny New Jersey students to the theme of 'What the American Flag Means to Me.' They are truly moving as well as a great tribute to the quality of learning that schools across New Jersey are achieving," said Joesph Whall, PNC Senior Vice President and Director of Client and Community Relations.
"We received a record number of entries for this year's PNC Essay Contest, hundreds of which were accompanied by heartfelt notes from educators thanking us for engaging children to think and write their feelings for the American Flag," said Howard Freeman, Executive Producer of the Quick Chek New Jersey Festival of Ballooning. "It has special meaning to all of us, which is reflected in their essays as well as in the PNC American Flag balloon, which they continue to make one of the most popular attractions at the Festival every year."
Kantesaria's winning submission is as follows:
What the American Flag Means to Me
by Priti Kantesaria
If I were to say what the American Flag means to me, I would say freedom and opportunity. Our ancestors fought diligently for what we have now, freedom of speech, religion, and more. My father came to America twenty years ago. Coming here was like a breath of fresh air. He barely spoke a word of English and worked at his uncle's carwash. My dad struggled in his education but eventually succeeded and he feels he is the luckiest man on Earth. Furthermore, I have more opportunity than my dad had. "May I never wake up for the American Dream."


Second place was awarded to Fernando Zurita, a sixth grade student from Lafayette Street School in Newark, who will receive a family four-pack of two adults and two children's tickets to the Festival plus Festival merchandise. Justin Yuan, a fifth grade student from Rockaway Meadow School in Parsippany, was awarded third place and will receive four tickets to the Festival.