ENTERTAINMENT
The latest entertainment new for Allentown, Bethlehem, & Easton PA
Air Supply to headline Quick Chek New Jersey Festival of Ballooning
By Kelly Huth
April 19, 2010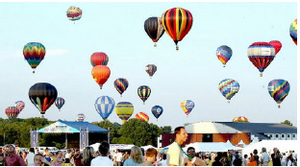 Air Supply will make a stop in New Jersey on its 35th anniversary international tour.
The band will perform 8 p.m. July 23 at the Quick Chek New Jersey Festivla of Ballooning, following the first balloon launch of the three-day festival. The soft rock band will play songs from its 25th CD "Mumbo Jumbo," scheduled for release May 4.
Tickets go on sale 10 a.m. Friday.
Air Supply's most well-known ballad "All Out of Love" received BMI's 3 Million Performance Certificate, awarded to songs broadcast more than a million times (equivalent to 5.7 years of continuous play).
Tickets cost $17 in advance, $25 a tthe gate and $7 for kids ages 4-12, $10 at the gate. To reserve a spot, visit balloonfestival.com or call 973-882-5464.