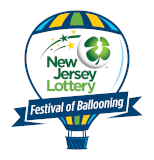 Countdown to Festival Fun

Until the 2020
Quick Chek New Jersey
Festival of Ballooning!
Behind The Scenes with Festival Executive Producer Howard Freeman

The Empire Strikes Back with the return of the spectacular Darth Vader hot air balloon from Brussels, Belgium as we prepare for another year of awe-inspiring ballooning. Approved by Lucasfilm, this 3 dimensional hot air balloon shaped like the head of the most famous villain in movie history is 86-feet-tall, 69-feet-wide and 78-feet deep … so we're bringing in even bigger stars to combat Lord Vader.


New special shaped balloons this year feature Pandy, a 100-foot-tall, 675 pound black-and-white panda bear; the Little Pirate, who at 110-feet tall really isn't all that little; Clown-N-Around, a 110-foot-tall multi-colored balloon in the shape of a clown complete with a 30-foot wide hat; and every weekend duffer's delight: a giant sized golf ball.


We're proud to announce the return of our signature Quick Chek Farm Fresh balloon, which was unveiled last year. This giant red barn complete with a 61-foot-tall silo, a 30-foot-tall farmer, and friendly animals, seems quite at home floating over the scenic Hunterdon County countryside.

And of course you'll be able to once again enjoy Festival favorites such as the PNC American Flag balloon, the world's largest free-flying American flag; and the Energizer Bunny, the world's biggest hot air balloon.

Our mass hot air balloon ascensions schedule:

Friday, July 24 - 6:30 p.m.
Saturday, July 25 - 6:30 a.m. and 6:30 p.m.
Sunday, July 26 - 6:30 a.m. and 6:30 p.m.

all ascensions are wind and weather permitting

So whether you're one of our balloonatics who come out year after year (thank you!) or you haven't been at the Festival in a while (for shame!) or if this will be your first time here, you can see we strive to keep the Festival fresh by providing exciting entertainment and attractions for your enjoyment.

We look forward to seeing you along the flight line to take in the magic in ballooning during our beautiful early morning ascensions when the crowds are lighter and the air is cooler, as well as our spectacular sunset launches.

Let the flight be with you!

|

Back to index...