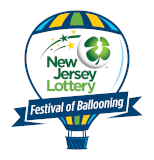 Countdown to Festival Fun

Until the 2020
Quick Chek New Jersey
Festival of Ballooning!
FESTIVAL TICKETS NOW ON SALE! BUY NOW, SAVE BIG!

Advance tickets for this year's 27th Annual Quick Chek New Jersey Festival of Ballooning in Association with PNC Bank are now on sale.

Buy now and save big! Adult general admission tickets are just $17 and children's general admission tickets (ages 4-12) are just $7 through July 23 --- that's a 32 percent savings over the gate price for adults and a 30 percent savings over the gate price for kids. Children age 3 and under are admitted FREE --- but you have to act soon!

Advance tickets are available at all 120 Quick Chek store locations throughout New Jersey and Orange County, NY, another great reason to get fresh and go fast by visiting your local Quick Chek where you can enjoy a fresh breakfast, delicious subs, sandwiches, wraps and salads, fresh brewed coffee and refreshing iced coffee. To find the nearest Quick Chek visit www.quick-chek.com.

Festival tickets are also available by calling 1-800-HOT-AIR-9 or click on the links on the left of the web site.

FESTIVAL DATES & HOURS
Festival hours are:

Friday, July 24 - 1:00 p.m. to 10:00 p.m.
Saturday, July 25- 6:00 a.m. to 10:00 p.m.
Sunday, July 26 - 6:00 a.m. to 8:00 p.m.

With the return of Darth Vader, the Quick Chek Farm Fresh, the PNC American Flag balloons, new special shaped balloons and a great concert lineup, don't delay!


|

Back to index...