The QuickChek New Jersey Festival of Ballooning's
Bridgewater Commons Kid's Club allows kids to get up-close-and-personal
with over 100 hot air balloons!

Last Day to Buy Monday, July 15th!

Each member of the Bridgewater Commons Kid's Club
will receive the following:
-One (1) Child General Admission Ticket

-An exclusive Kid's Club t-shirt
-The opportunity to attend a hot air balloon tutorial with an official pilot.
-An official membership card.
-An invitation onto the balloon launch field (when accompanied by an adult) during the evening balloon ascension.
-A "Taste of QuickChek" goodie bag.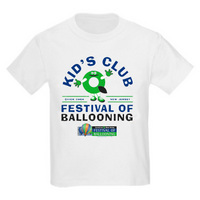 In addition, (5) Kid's Club members will be chosen to be honorary Balloonmeisters (one per ascension). The honorary Balloonmeisters will be invited to the pre-launch pilot briefing and will give the official launch directions to the pilots prior to lift off!


Ticket price $15 until June 28 at midnight, then $18 until July 15 at midnight.