WHY FESTIVAL SPONSORSHIP IS GOOD FOR YOUR BUSINESS CASE STUDY: PNC SEES A RETURN ON ITS INVESTMENT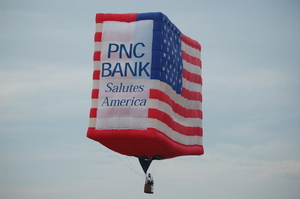 SITUATION:
IN 2001, PNC, a leading financial company based in Pittsburgh, PA was looking to expand its presence in New Jersey. A relative newcomer to the area, PNC sought out opportunities to support an event in the Garden State to further establish a customer base and develop its community relations program.

STRATEGY:
To maximize their investment, PNC senior management worked with the festival to develop plans that would extend their involvement in our 3-day event into a 5-month long promotional period.

In the months leading into the 2002 festival, we learned one of our pilots was creating a special balloon in the shape of the American flag in honor of 9/11. PNC Vice President Joseph Whall was interested in recognizing those from New Jersey who were affected by the tragedy and so on Flag Dag, June 14, 2002, The Today Show filmed as the "PNC Salutes America" flag was inflated in Weehawken, NJ. This honor continued at the festival a month later when 123 hot air balloons took to the skies in a mass ascension before we launched the last two balloons ---the soaring Quick Chek American Eagle and the PNC American flag balloon, the world's largest free-flying flag. Tens of thousands of people rose to one to cheer American's icon to the tunes of God Bless America and You're a Grand Old Flag. The festival's 175,000 attendees now had a new favorite balloon.

In looking to extend their sponsorship activation, new components were added each year that have tied into the PNC Salutes America theme and integrated their corporate public affairs program, such as educating children on how to save money. PNC was now receiving brand awareness and positive recognition from the early spring through the festival in late July. This was accomplished through:

* The creation of the PNC "American Patriot Essay Contest" where school children in the state of New Jersey are encouraged to write about "What the American Flag Means to Me." Now in its 7th year, the contest begins in March and runs through June when we bring a balloon to the Grand Prize winner's school.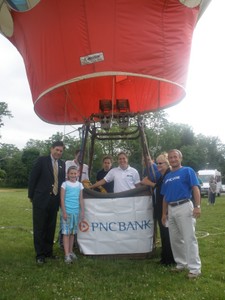 *Partnering with PNC's "Grow Up Great" school readiness program to introduce the magic of ballooning to hundreds of pre-school children ages 3 to 5 around the state. This very unique, hands-on learning experience has attracted front page news coverage
and photos with PNC branded signage over the past six years to help maximize PNC's $100 million investment dedicated to produce stronger, smarter, and healthier children, families, and communities, preparing young children for school and life.


* Honoring America each year on Flag Day or the 4th of July by inflating the PNC American Flag Balloon. This now annual event provides a great photo-op for electronic and print media, resulting in positive recognition and nationwide publicity for PNC, as well as targeted coverage by the Associated Press, the New York and New Jersey daily newspapers, and live broadcasts on FOX-TV's "Good Day New York" and the PIX-11 Morning News progr
ams.

* The inclusion of the PNC brand in all festival media both leading up to and through the festival weekend. This ranges from the weekend covers and centerfold spreads in every major daily newspaper in the state to on-air footage on the national morning shows and New York, New Jersey and Philadelphia TV stations.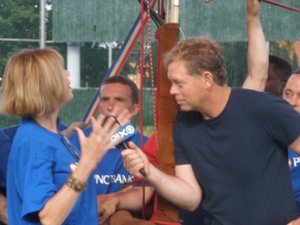 PNC enjoys many corporate benefits from their sponsorship, ranging from ticketing and hospitality opportunities and present our Sunday afternoon concert headliner to the cold hard cash of supplying all of our on-site ATM machines; the festival produces the highest amount of foot traffic of any event for PNC. The company proudly displays its partnership with the festival with signage in its branches and on all of its ATM screens in the weeks leading up to the festival.

RESULT:
PNC has utilized the festival to build a solid customer base, generate foot traffic and increase deposits at their branches while branding itself as one of NJ leading financial institutions. At the conclusion of their current renewal, their sponsorship will be more than a decade long.