Yoga/Jazzercise
Sunrise Yoga and Jazzercise at
SUNRISE YOGA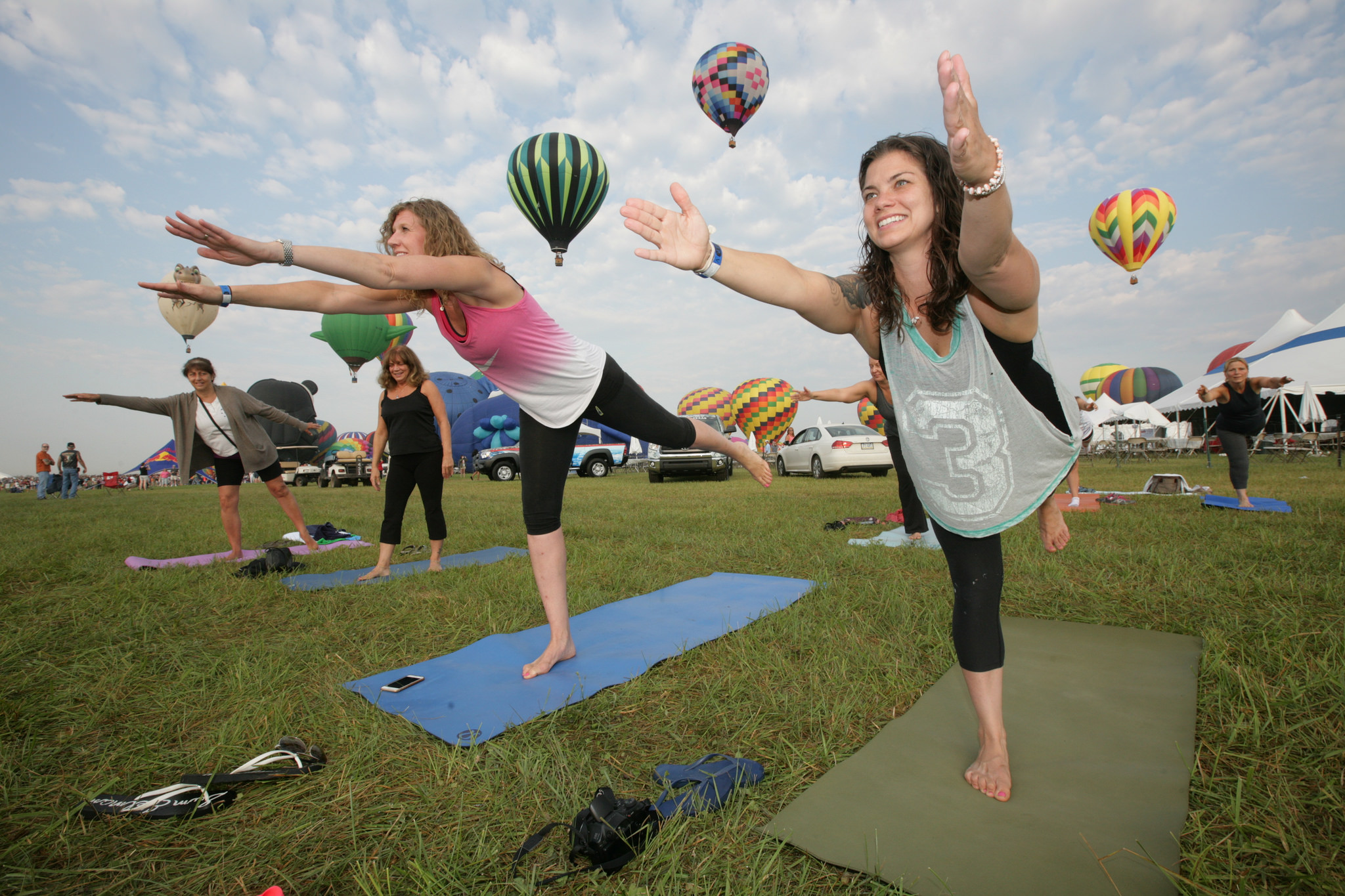 When: 7:00am
Where: Corporate Hospitality Village
For the ninth year in a row, yoga students will greet the rising sun in front of the panoramic back drop of over 100 balloons ascending into the skies of New Jersey. This year's sessions will be lead by Priya Mallery of Integral Yoga in Princeton.
Priya first fell in love with yoga during a wilderness excursion with Outward Bound at the age of 15. She has been an avid runner and fitness lover since then, but over the past couple years she has been seeking a more spiritually based practice. Priya is a 200-RYT with Integral Yoga Institute, studying the life and teachings of Swami Satchidananda, in Princeton, NJ. She gravitated towards Integral Yoga because she saw the benefit of the physical practice in this style, and coupled with deep meditation and scripture study, she became aware of something much deeper and profound happening in her life both on and off the mat.
Shortly after finishing training she completed her Aerial teaching certification at Honor Yoga Aerial Acro in Pennington, NJ. Here, she found a beautiful balance in her life with the physicality of aerial, blended with the spiritual growth she found in her floor practice.
You can join Priya on Wednesday evenings and Friday mornings at Integral Yoga Institute in Monmouth Junction and Saturday mornings at Honor Aerial Acro in Pennington, NJ.
---
JAZZERCISE PRE-RACE WARMUP
When: 7:30am
Where: Chrysler Pacifica Family Fun Pavilion
Jazzercise returns to the festival this year. A Certified instructor of Jazzercise will lead the workout program, which offers a fusion of jazz dance, resistance training, Pilates, yoga, and kickboxing movements, has positively affected millions of people worldwide. Benefits include increased cardiovascular endurance, strength, and flexibility, as well as an overall "feel good" factor.