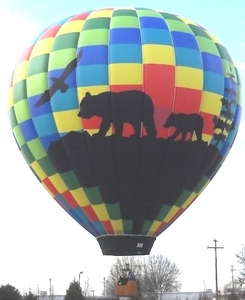 Spellbound Spirit II - Randy Lee
Balloon Name: Spellbound Spirit II
Pilot: Randy Lee
Hometown: Four Oaks, NC

About Randy:
Randy has been involved with ballooning 15 years. He fell in love with the sport after taking his first balloon ride. As pilot, Randy is only part of the team. He and Jean, his wife and number one Support Person (in more ways than one), operate Carolina High Hot Air Balloon Company, LLC in Four Oaks, NC. They will be debuting their new balloon (Spellbound Spirit II) at several 2012 festivals throughout the eastern US and Canada. Laughter is not uncommon around Randy and Jean. They both enjoy life and sharing their sport with new and old friends they meet along the way.