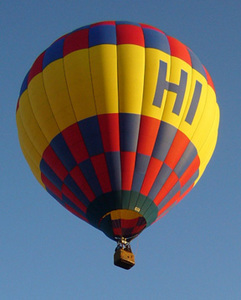 HI - Richard Letrent
Balloon Name: HI
Pilot: Richard Letrent
Hometown: Hamilton, NJ

About RJ:

Rich (RJ) Letrent, originally from Western Pennsylvania, currently hails from Hamilton, New Jersey. He flies regularly in the Garden State, but logbook entries also include a number of festivals across the Northeast and even a flight in the Slovak Republic. "I got hooked on ballooning back in 2005 when my neighbor, Jeff Lovelace, talked me into coming out to crew. I had no idea what to expect, but it turned out to be love at first sight. Before long, I found myself signing up for every flight. One thing led to another and I got my pilot certificate in 2007. Along the way, I've encountered some of the most wonderful people you will ever meet and flown many a balloon. In fact, my first ride was at this festival as a novice crew member!"
The HI Balloon has an interesting story. It began life as the Yashica Camera Balloon. When the corporate contract expired, the previous owner removed all of the letters except for the "HI". That bit of whimsy proved to be very popular. Eventually, the aging envelope was retired and a new one commissioned. "HI" was included in the new design and continues to generate smiles.
RJ and Jeff are thrilled to once again, bring the HI Balloon to the QuickChek New Jersey Festival of Ballooning. "We fly from Solberg Airport year-round, but this weekend is truly spectacular."