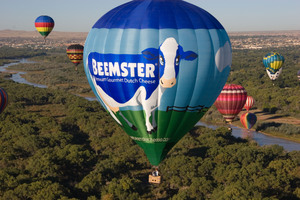 Beemster Betty Bovine - Michael Blum
Balloon Name: Beemster Betty Bovine
Pilot Name: Michael Blum
Hometown: Wheeling, WV

From Michael:

A culinary arts professional, Michael is currently the U.S. Sales and Marketing Director for Beemster Cheese, a historic cooperative making cheese in the Netherlands for more than 100 years. In his spare time he enjoys providing pro-bono consulting services for small cheesemakers in the U.S. He is also the founder of DosTicos, a U.S. brand of the No. 1-selling Costa Rican salty snack.
Michael has a passion for travel as well as food – he enjoys visiting "off the beaten track" destinations, recently visiting the Ukraine and Lithuania with plans to summit Mt Kilimanjaro. And he combines both of his passions as the pilot of the Beemster Cheese hot air balloon, which he flies throughout the United States. He shares a love of the performing arts with fellow board member Thomas Farrell, who inspired him to become involved as an investor/producer with the national touring Tony award winning musical Memphis as well as other Broadway-bound musicals.
Michael was inspired to start Tomorrow's Chefs, a 501c3 charity that inspires at risk high school students using the culinary arts.