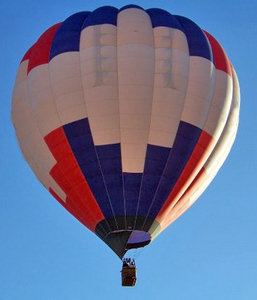 Above & Beyond - Jon Radowski
Balloon Name: Above & Beyond
Pilot: Jon Radowski
Hometown: Elverson, PA
Website: http://www.usahotair.com

Jon Radowski has been involved in ballooning essentially his entire life.
His interest took off at the age of two when his family attended the New Jersey Festival of Ballooning. Jon knew from a very early age he would become a balloon pilot, and made all the necessary preparations to help make his dream come true as soon as possible. He first flew in a balloon at the age of 12, began flight instruction at 14, designed and built his first hot air balloon at 17 while a junior in high school, earned his private pilots license later that year, and gained his commercial pilots license at 19 to begin ballooning as a career.

From 2003 onwards, Jon served as the chief pilot of the Space Shuttle Patriot balloon, still the tallest special shape hot air balloon currently flying in the world. Towering an impressive 190 feet from nose to ground, with a wingspan of 115 feet, Patriot is 40% larger than the actual NASA Orbiter.

Jon currently flies year-round, offering passenger balloon flights in Pennsylvania, New Jersey, Albuquerque, New Mexico and Phoenix, Arizona. He continues to design and build custom hot air balloons and special shapes, and is involved in hot air airship design, construction, certification and piloting. Jon has flown balloons and airships in eighteen different US states as well as Canada, Mexico and Europe. A few of his most memorable flights include a flight across Lake George, NY; a full moon midnight flight in Phoenix, AZ; flying near the Swiss Alps; flying a balloon inside another balloon; and a spectacular flight to 18,000 feet, above the Grand Canyon!